Himed Kherbache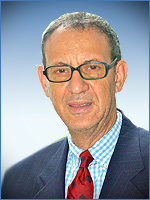 A native of Skikda, Algeria, Himed Kherbache M.D. attended Medical School in Algiers in 1974 and obtained a MD degree in 1981. He completed a Neurosurgery residency in Mustapha University Hospital in 1986. He practiced Neurosurgery in Tizi-Ouzou and Algiers (CHU Zemirli) before moving to the United States of America in 1994. He obtained his Board-Certification in Nuclear Medicine in 2004, and currently holds a State of California license. He completed his postgraduate education in the Oregon Health Science University (OHSU) of Portland, Oregon where he did an Internship in Surgery and a fellowship in Neuro-Oncology.
He was accepted in a residency program of Nuclear Medicine and graduated in 2002 from University of Southern California (USC) in Los Angeles. In view of his particular interest and involvement in the rich program of Nuclear Cardiology at Los Angeles County/USC Hospital, he passed the Certification Board of Nuclear Cardiology in 2006. He was accepted in the newly implemented PET/CT fellowship program at USC and graduated in June 2008.
In July 2008, he was appointed as an Attending Physician in the Washington Hospital.
Dr. Kherbache is involved daily in PET/CTs interpretations, and in formulating individualized treatment strategies at 'Tumor Board' meetings, a forum of a multidisciplinary group of oncologists with particular focus on Head & Neck and thoracic malignancies, as well as Lymphomas.