Omar Khemici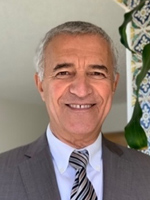 I have participated in the three Summer University programs organized so far by AAF. Through this unique experience, my feeling of finally finding a path to serve back my country was available and is sustainable. This feeling provided me with satisfaction and encouraged me to submit my nomination to be part of the AAF Board to continue this noble endeavor.
Dr. Khemici, currently retired, has thirty-five years of professional experience in the field of earthquake engineering and catastrophe risk management. As Director of Model Development at CoreLogic, a global catastrophe modelling company in Oakland, California, he managed the development of model components worldwide for earthquakes, hurricanes, floods, wildfires, terrorism, and industrial accidents. Prior to CoreLogic, he managed several US and international cat bond projects where he provided the analytics for property and liability coverage. He also led the analysis of portfolios of major insurance and reinsurance companies in the US, Europe, and Asia.
Dr. Khemici was, successively with Jack Benjamin and Associates (JBA) in Mountain View, California, Ammann & Whitney in New York, EQE in San Francisco, Con Edison in New York, EQECAT in San Francisco which was acquired by ABS Consulting and then by CoreLogic. At JBA and EQE he performed inspections and seismic safety analyses at several US nuclear power plants. Dr. Khemici contributed to a major utility study for the Electric Power Research Institute (EPRI) defining the Operating Basis Earthquake exceedance criterion in nuclear power plants. In this study, he introduced the Cumulative Absolute Velocity (CAV) parameter as a new earthquake damage indicator. At Ammann & Whitney in New York, Dr. Khemici was responsible for the definition of the seismic design provisions of several important facilities including the extension of the Dulles International Airport Terminal in Washington, DC. He also evaluated the seismic resistance of existing unreinforced masonry buildings and provided detailed retrofit schemes.
Dr. Khemici's work in Algeria included teaching at the ENITA, the USTHB, and at the University of Algiers. He also participated in the damage surveys conducted by US engineering teams following the 1980 Al Assnam Earthquake and the 2003 Boumerdes Earthquake.
Dr. Khemici received his Engineer degree from the National Polytechnic School in Algiers, in 1975 and his master's and Ph.D. degrees from Stanford University in California in 1978 and 1982, respectively. He holds a Professional Engineer (P.E.) The license in the State of California.
Dr. Khemici served or continues to serve on the Boards of non-profit organizations in the San Francisco Bay Area such as the Algerian American Association of Northern California, the Algerian Solidarity Foundation, the Arab Cultural Center of San Francisco, and the San Francisco Islamic School.