Soraya Mellali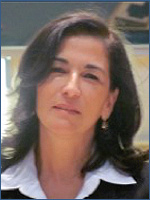 Soraya Mellali is a Development Strategist/Economist with over 25 years' experience at The World Bank, UNDP, Central Bank of Algeria, and private international consulting firms (Booz Allen & Hamilton, ENORI).
She currently holds the position of Advisor to the Executive Director of the four Boards of the World Bank Group (International Bank for Reconstruction and Development, International Development Association, International Finance Corporation, Multilateral Investment Guarantee Agency) representing Afghanistan, Algeria, Ghana, Iran, Morocco, Tunisia, and Pakistan; as well as of the WBG Human Resources Committee Chair.
She is in charge of preparing the Executive Director Policy positions on key issues of the agenda of the Boards and its Committees, in particular organizational development and corporate strategy, country strategies and programs, and global challenges as well as policy recommendations on sector strategies such as education and health; skills and jobs; financing for development, knowledge and innovative solutions and south/south cooperation. She launched and chaired a thematic group on the Middle East & North Africa Region to share knowledge and practical experiences on matters relevant to the region.
Soraya is also Advisor to the G11, representing World Bank Group Board members from Emergent, Middle Income and Low Income Countries, and to the Group of 24 on International Monetary Affairs and Development representing 24 non-aligned countries and China. Before joining the World Bank, Soraya worked at the United Nations Development Programme (UNDP) from 1993 to 2003 in various advisory and managerial positions in Algeria, Djibouti, Cote d'Ivoire and Senegal. During that period, she provided policy advice and substantive support on economic and social policies and took appropriate steps to foster policy dialogue and effective relationships with government and development partners. She also coordinated knowledge services provided to 16 Country Offices by a multidisciplinary team of policy specialists in areas such as Governance, Poverty, Gender, NTIC, HIV/AIDS, and Energy & Environmen
Between 1990 and 1992, she was Advisor to the Governor of the Central Bank of Algeria, with responsibilities for strategy/organization and communication. Earlier in her career, she worked as a Strategist/Economist & Financial Analyst for Booz Allen and Hamilton & ENORI, in France and Algeria, leading financial diagnosis and co-designing development strategy for heavy industries, and contributing to strategic and operational management control for financial institutions.Soraya received her Bachelor degree at the Université de Sciences Economiques, in Algiers, a Diplôme D'Études Approfondies (Master) in Economic Policy from Institut d'Études Politiques (IEP) in Paris, a Diplôme d'Études Supérieures Spécialisées (MBA) with a major in Finance from the Institut d'Administration des Entreprises (IAE) in Paris, and was a Doctorate candidate in Economics at Nanterre University Paris X. More recently, she received a certificate on "The Cutting Edge of Development Thinking" from Harvard Kennedy School Executive Education in Cambridge MA.
She has published articles on economic reforms and human development and co-authored "Africa  and the Millennium Development Goals", Economica, Paris -France 2005.